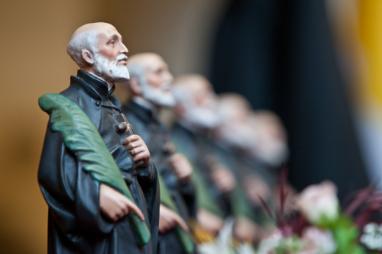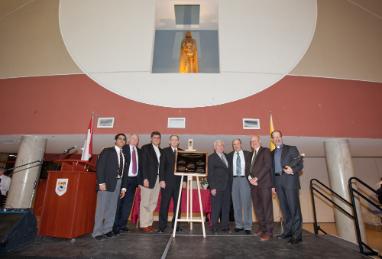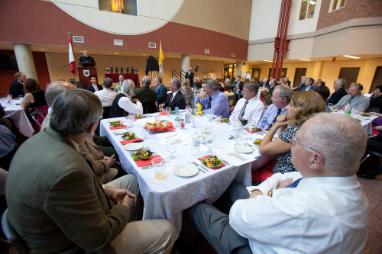 ORDER OF
ST. JEAN DE BREBEUF
The Order of St. Jean de Brebeuf, established in 2012, is the highest honour that the can be bestowed on a member of the Brebeuf Community, in recognition of achievement that exemplifies the values and ideals for which Brebeuf College School stand.

The 2016 Induction Mass and Luncheon will be on Sunday, October 23. Order tickets at www.orderofbrebeuf.com.
2016 Inductees:
Joseph Boyden '85
Robert Meagher (posthumously)
Michael Rogers '81
Dennis Tobin '79
2015 Inductees:
J. Paul Adams '71
Ted and Joan Belton (posthumously)
Brebeuf Ladies' Guild
Fr. Robert Brennan, S.J.
Robert Carty '69
Kevin Duffy '79
2014 Inductees:
James Barry
Rosemary Lavery
Frank MacGrath '82
Brother Lawrence Maher F.P.M. (Posthumously)
Father J. Winston Rye S.J.
2013 Inductees:
Tom Barlow '84
Tom is an alumnus of Brebeuf (Class of '84). He is a talented educator and an even more talented musician. He has taken his God given skills as a musician and used these to help drive messages for social change. His rare blend of strong popular music sensibility and powerful social messages has lead the media to refer to his music style as "activist pop". Tom continues to educate youth through various programmes he has developed to encourage positive social change. Tom is a four-time Juno Award nominee and has performed across Canada and around the world, often going to the most remote and needy areas to bring his message of hope and social justice. In Tom's words "… music is the most powerful tool to promote social, political and moral change in history" and his music is changing the world.
Father Don Beaudois S.J.
Father Beaudois taught at Brebeuf from 1966 – 1983. His high academic standards and intense discipline helped to establish Brebeuf as a school of academic excellence. He inspired students to work hard and be prepared for class, but he also demonstrated a strong commitment to his faith and to community. Father Beaudois was once quoted as saying "My purpose is to teach students to become Christian gentlemen, role models in their communities with a sense of higher purpose and to help those around them". The school's "Man for Others" award was named in honour of Father Beaudois when he retired in 1983. He remains dedicated to serving the Church as a Jesuit priest.
Bob Lato '68

Bob was among the first graduates of Brebeuf College (Class of '68), where he distinguished himself both academically and in extra-curricular activities. He returned to teach at Brebeuf from 1973 – 2003, and he spent many years as a devoted teacher and later became a well-respected guidance counsellor. Bob was also very active in extra-curricular activities while on staff, participating energetically in Monday Floor Hockey, baseball and as a Coach for the Brebeuf Redmen Hockey Team. He also initiated a variety of leadership programmes at Brebeuf. Bob always put the considerations and interests of students first. Throughout his career, Bob has dedicated his life to helping others and to the creation of leadership experiences in an international context. In one former colleague's words: "No one deserves this recognition more and anyone who taught with or was taught by him can attest to this".
Catherine Pieroni
Catherine stands out as an individual who clearly embodies the "Men and Women For Others" ethos of Brebeuf College. As an Art teacher at the school, Catherine is highly dedicated and professional and easily earns the respect of fellow teachers and students alike. She teaches with such enthusiasm and inspiration and encourages students to create works of art of the highest quality. Many of these pieces help to beautify the school. She is kind, humble, gracious and affable. Catherine is also a role model of charity and each year since 1990 she has organized the annual "Fast-A-Thon" through which students raise funds for the Volunteer International Christian Service (VICS), a mission to help those in the Developing World. Through her efforts, Catherine continues to educate students as "Men For Others".
Greg Rogers '71
Greg is an alumnus, a former teacher, and a past Vice-Principal at Brebeuf. He began his teaching career in Zambia, Africa and he returns to Africa regularly to continue to foster leadership programmes for students and teachers, both here in Canada and abroad. Greg is a committed and demonstrated Christian, an innovator, an outstanding educator, dedicated father and family man, a successful coach and without doubt, an exceptional leader. During his tenure as a Brebeuf staff member, Greg founded the Brebeuf Alumni Association and the rugby programme. In addition to his outstanding contribution to Brebeuf, Greg continues to serve selflessly with various communities at home, in the developing world, with at-risk-youth and with students of the world. He truly is "A Man For Others".


2012 Inductees:
Paul Clancy '79
O'Neil P. Gazeley
Marc Kielburger '95
Father Brian Massie S.J. (posthumously)
Brother Henry Spencer F.P.M.